Plants and Garden
Our plants are less expensive than garden centre plants. They are also sturdier and more interesting. Our producers are free of the pressures that limit the time and care commercial growers can afford to put into their trade.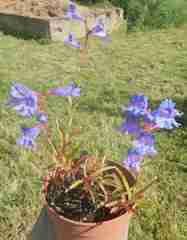 When you visit one of our Country Markets you will find an interesting spread of plants that people have propagated from plants that they cherish and want to pass on to other gardeners and pot plant lovers.
As well as plants you may find arrangements of cut flowers from local gardens. There may also be garden-related items such as garden ornaments and bird food.
Examples: perovskia, abelia, winter savory, fuchsia, primula vialii, primula barbara midwinter, penstemon, tomato basket, sage, oregano, mint, thyme, snake's head fritillary, sarcococca, agapanthus, daffodil, iris reticulata, double snowdrop, hyacinths, day lily, giant echium, bird food, marigolds, cyclamen, foxglove, hyacinth, iris, vegetable plants, bedding plants